Saturday was a beautiful day, highs in the 80's and a party in the afternoon. To buy us some time before we had to be at Grandpa's yesterday afternoon we went to the Arts & Craft Show in town. We walked through all the booths. Micah stopped to make a college at the Museum of Florida Art table, while Xavier became a party pooper complaining about being thirsty. While hanging out with Micah at the art table we ran into my sister and found out that we could pick Emily up for the party this afternoon. Soon we found the lemonade stand, I love the fresh lemonade they have at these things. Micah and I both ordered a large one, Xavier opted for a coke but soon he was helping himself to my cup. We saw some awesome artists and neat crafts. The boys had to buy a photograph from
Feathers and Fur Photography
. Micah picked out an owl and Xavier got a raccoon. I think they would have spent a lot more than $15 if I would have let them. They love animals and wanted quite a few of his photographs. Our final stop was at a chainsaw art display. Some of the pieces were totally awesome!
On the way to the store we picked up a cake and the boy's cousin Emily. Melanie and the girls were already in the pool when we got to Grandpa's house. Emily and the boys quickly joined them in the freezing water. At 64 degrees the adults were not getting in but that didn't stop all the kids. 12 out of 13 kids swam for a little bit (Miss Kayla said it was way to cold). Isaac and Jake played on the steps a little but without an adult that was as far they were going :-)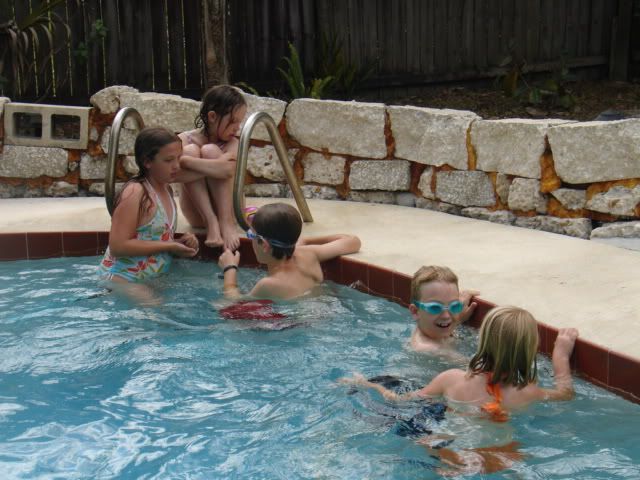 What else can 3 birthday kids ask for? Yes, I said 3. Xavier, Jessica and Kayla all have birthdays within 3 weeks of each other. The cake displayed their ages nicely but Xavier accidentally blew out Jessica's candle also so her mom had to relight it for her. After swimming, hamburgers or hot dogs, cake and ice cream it was present time. A mixture of Hannah Montana, dragons, Nerf & Lego's. The kids liked their presents and it was time to head home. After dropping off Emily we didn't get back to our house until almost 7 (the party started at 2).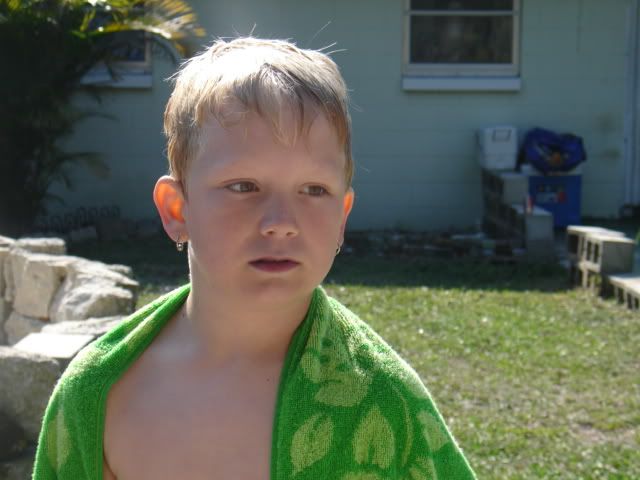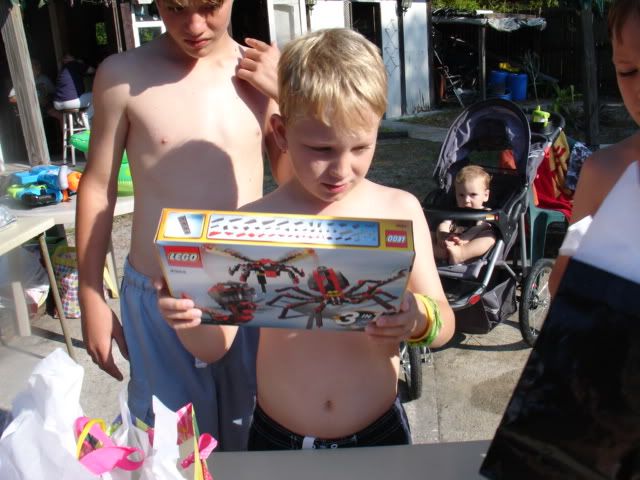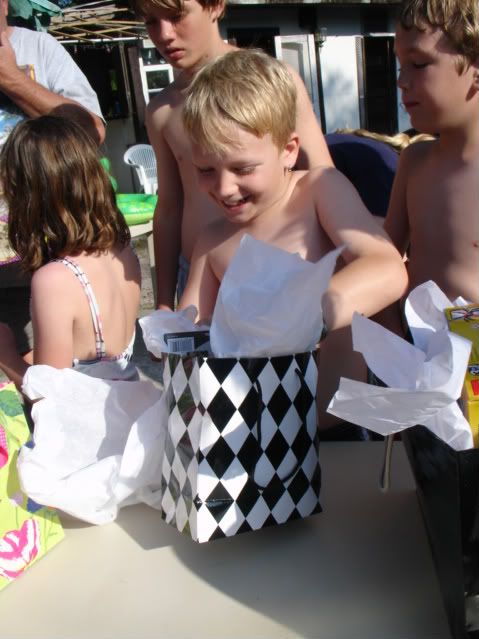 Xavier did not even say hello to Granny and Papa J he went straight to building his Lego. Micah played with other Lego's and Isaac decided to try and feed. Soon bedtime arrived and we hit the sack. Everyone was exhausted from the day but Praise the Lord we had a wonderful time.