We have had a really nice Easter. We woke up a little late but that is okay. I set the table last night so it would be ready for dinner this afternoon. Then spent the morning hanging out with the boys, hiding eggs and preparing the food. We are having the whole meal this year: ham, green bean casserole, pea salad, deviled eggs, peas and rolls (if they rise). Joel can not wait to dig in to the food, but then neither can Micah and Xavier. I just think Joel is especially happy because he is actually being able to spend Easter with us. He has not been home for Easter since who knows when ?Texas? So this is a very joyous occasion. It is so wonderful to have him home to do all the Easter things and celebrate our Lord's Resurrection today.
The boys Easter baskets were filled with a "bird theme" in mind. (They normally get theme baskets). We are currently studying about birds in science so it was a wonderful theme for this year. Of course I had to let the Easter Bunny know ;-)
They had some candy, bird feeders, a bird house to paint, a Bird coloring book, plus The Narnia Movie and a couple of silly toys. They loved the baskets and the feeders are already hanging up in the back yard. We do want to make some of our own bird houses/nesting boxes eventually but for now a painted one will work.
Hope everyone has had a Wonderful Easter/Resurrection Day! Enjoy some of our pics!
The Table is Set...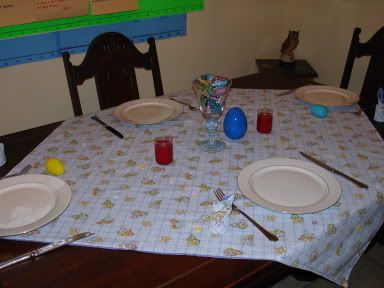 When can we eat Mom?
Xavier with the baskets...
The Easter goodies...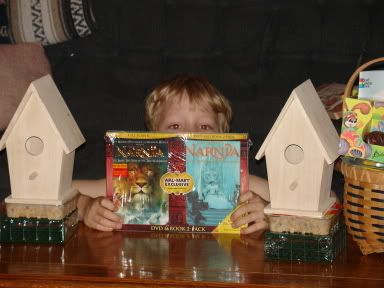 Micah waking up and the boys checking it out...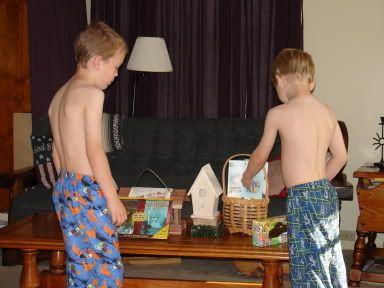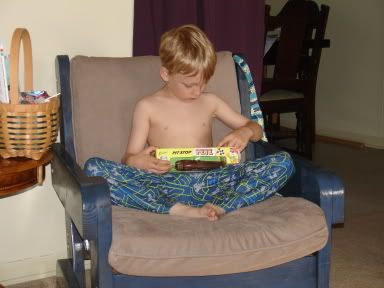 Hunting Eggs...