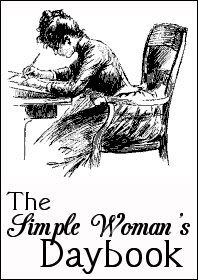 For Today...
Outside my window...
the sun is shining (it is going to be another hot one) and a crow is meandering its way across the lawn
I am thinking...
about what to cook for dinner
From the learning rooms...
Xavier is continuing his math, science and history studies
some painting and art is on the menu for today
I am thankful for...
my family
for the Lord hitting me upside the head at times
From the kitchen...
dirty dishes call my name
I am wearing...
pajamas still
I am reading...
not much at the moment.
I am hoping...
I can catch some flies today (to feed my son's geckos)
I am creating...
a few dresses for the baby.
I am praying...
for my children & hubby (of course)
for personal things
Around the house...
a cleaning is in store
One of my favorite things...
listening to my children laugh
A few plans for the rest of the week...
guitar lessons, start working on the baby's room, grocery shopping at the end of the week.
Here is a picture thought I am sharing with you...