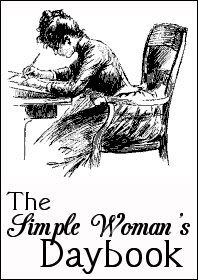 FOR TODAY
June 8, 2009
...
Outside my window...
the sun is shining and the birds are gathered under the bird feeders.
I am thinking...
of the day ahead and the things I want to accomplish today
I am thankful for...
a wonderful church service yesterday morning & last night (we went to a new church)
From the learning rooms...
the boys have started their summer schedule which includes their summer reading goals, TX state history, spelling & math
From the kitchen...
I need to come up with this week's menu but tonight we will be chowing down on Chicken Alfredo, and I need to finish making the peanut butter cookies
I am wearing...
t-shirt and flowered skirt :-)
I am creating...
nothing at the moment, but I plan to make Isaac a pillow case & matching curtains this week and mend a couple of skirts.
I am going...
to the Dr. on Tuesday for Isaac's appoint (poor things needs a couple of shots, and an FRG coffee Saturday morning. If all goes well we will go to the library Tuesday evening.
I am reading...
The Love Dare (with Joel) and Created to Be His Help Meet.
I am hoping...
praying... for a quiet evening (lol).
I am hearing...
The movie "Cars", Micah in the kitchen, and the washer still going.
Around the house...
I need to finish up the laundry, go through baby clothes and mop the floors.
One of my favorite things...
watching Xavier read (he gets so into the book)
A few plans for the rest of the week:
continue reading and trying to apply what I have learned and possibly going to Wed. night service.
Here is picture thought I am sharing...